Whirlpool Washer/Dryer Combo Cleaner & Deodorizer Parts
Item # 1373065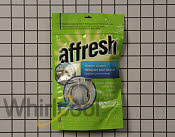 Affresh® Washing machine cleaner. This cleaner removes and prevents odor-causing residue in all brands of washers. To use, add one tablet to washer with no clothes and select hot water.

- Septic safe
- More effective than bleach.
- Three tablets per package.
OEM Part - Manufacturer #W10135699
Item # 4585674
Affresh® Washing Machine Tablets. Value pack of 6 tablets. Affresh Washer Cleaner tablets are designed to penetrate, dissolve and remove odor-causing residue that can occur in all washing machines.
OEM Part - Manufacturer #W10501250
$17.39
Order now and choose FedEx 2Day or FedEx Overnight shipping and this item will ship out tomorrow
Add to Cart
Item # 4457150
Affresh® Washing Machine Cleaning Wipes, 24 pre-moistened cleaning wipes per package.
OEM Part - Manufacturer #W10355053