Whirlpool Washer/Dryer Combo Cleaning Brush
Item # 1467766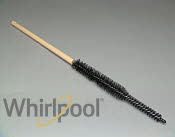 Cleaning brush for refrigerators, freezers, dryers and more. This brush is perfect for cleaning condenser coils on refrigeration systems. It is important to regularly clean the condenser coil to ensure the refrigerator is running efficiently.
OEM Part - Manufacturer #4210463RW
Item # 4437433
Lint brush used for lint screens on the top of the dryer
OEM Part - Manufacturer #8212614
Item # 4920885
Dryer vent cleaning brush. This brush is designed for cleaning 4-inch diameter ducts. At 20 feet in length, it provides substantial reach.
OEM Part - Manufacturer #03815