Whirlpool Washer/Dryer Combo Idler Pulley
Item # 3346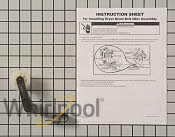 Dryer belt tension idler pulley assembly.When the idler pulley goes bad it will usually make a high pitch squeeling or rattling noise.
OEM Part - Manufacturer #WP691366
$26.67
Order now and choose FedEx 2Day or FedEx Overnight shipping and this item will ship out tomorrow
Add to Cart
Item # 2958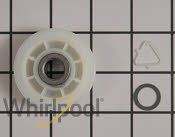 Dryer idler pulley. The idler pulley puts tension on the drive belt. If the idler pulley fails to put the proper amount of tension on the belt, the dryer will not spin.
OEM Part - Manufacturer #279640
Item # 4448234
Idler pulley and bracket
OEM Part - Manufacturer #WPW10547294
$31.87
Order now and choose FedEx 2Day or FedEx Overnight shipping and this item will ship out tomorrow
Add to Cart