Whirlpool Washer/Dryer Combo Clutch
Item # 2670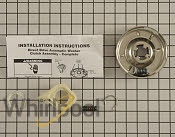 Washing machine clutch assembly with hardware. *Blue spring for large capacity washers, black for compacts. A worn clutch often causes a slower spin speed which leaves the clothes soaked after the cycle.
OEM Part - Manufacturer #285785
Item # 3319979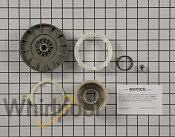 Drive Clutch Kit. This kit has 6 parts; a spring, housing, cam ring, basket drive gear, pulley, and nut. The pulley is driven by the drive belt and the splutch works with the mode shift actuator to operate the washplate and spin the inner basket. A worn splutch can cause spin or washplate problems.
OEM Part - Manufacturer #W10721967